Posted on in Blog by Georgia ReiGeorgia Rei
Yes! ASH can build houses all winter long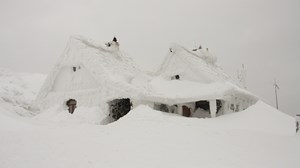 Winter is just around the corner, but that doesn't stop ASH from building beautiful custom designed modular homes. When using modular construction methods, Advanced Systems Homes "bridges" the coldest months of the Kansas winter and get a big head start on spring placement. Snow, sleet, rain or freezing cold don't stop the building. Here are four reasons why you should consider a modular winter build:
· Avoid Harmful Weather: Even though it might be cold rainy or snowy outside most of your home is built completely inside away from the possible damaging effects of a freeze.
· Go to the front of the line: Often during the late spring and summer month ASH has many homes to build. By getting your home built in the winter you will be able to bypass not deal with waiting on others who might be in front of you in the production, thus no waiting required…
· Quality construction from year-round workers: Because our construction crews have full employment through the winter we can attract the best craftsmen for our team and it shows in our final product.
· Get a head start on Spring: Building your home during the winter months allows you and your family to you to get into it during the months when your family can enjoy the sun and good weather.
It takes approximately 10 weeks for us to design, build and have the modular portion of your home complete and ready to transport to the building site. We get as much done under the protection of our huge warehouse facility as we can so that final placement is quick and easy. The only step that requires good weather is the foundation.
If construction begins in January or February, the modular portions will arrive in March or April. By that time, the winter will be gone and our crews will have built your foundation and be ready to go.
Starting a home in January means being in your new home by late Spring or early Summer. Your dream, our passion. Contact us to get started.