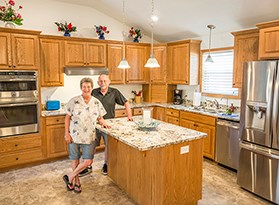 "We used the money from the sale of our old house, up-sized and still had money left over after our new home was built."

-- Chris & Joyce Andersen, ASH Home Owners
Three Financial Items for Your Custom Modular Home
There are three things that you need to do financially that will prepare you for building a new home.
Gather your credit information: Getting together key documents is a good idea because the lender will eventually need this information to be able to qualify you for a loan. This will also help you budget how much you can afford to spend on your new home.

Get educated: Begin researching the type of loan that is the best fit for your financial circumstances. There are a variety of home loans to choose from such as VA loans, FHA loans, conventional loans and construction loans.

Find the right lender: Not all lenders are necessarily the right fit for every borrower. There are traditional banks and various types of mortgage lenders out there. Lenders tend to specialize in the type of loans and interest rates they provide. We can help you find the one that focuses on the type of loan that best fits your financial circumstances.
How to Finance Your Home
One of the most important steps in building a new home is financing, and if you haven't done it before, you are probably unfamiliar with how to begin, the terminology, and types of loans available. The first of many things you need to do is to get educated, and we can help. If you wish, we can connect you with a reputable lender who can assist you in finding out about all of the options and tools available, so you can pick the loan that is right for you.
Get in touch with ASH to discuss homes in your price range and local lenders who may assist you.