Posted on in Blog by Georgia ReiGeorgia Rei
Fixing up your home does not guarantee a higher return unless you choose carefully what repairs to make!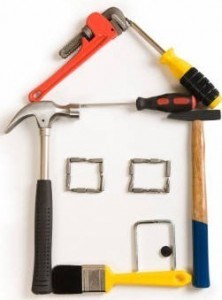 ASH realizes that winter is the time to stay inside and work on your home. We know that your house is an asset that needs to be continuously maintained and updated in order to keep its value. Here are ten tips from bankrate.com that can help boost the value of your home.
http://www.bankrate.com/finance/money-guides/10-cheap-fixes-to-boost-the-value-of-your-home-1.aspx
1. Make your kitchen really cook. The kitchen is still considered the heart of the home. Potential home buyers tend to examine this space when they first view a home for sale, so make sure your kitchen looks clean and reasonably updated.
For a few hundred dollars, you can replace the kitchen faucet set, add new cabinet door handles and update old lighting fixtures with brighter, more energy-efficient ones.
If you've got a slightly larger budget, you can give the cabinets themselves a makeover. "Rather than spring for a whole new cabinet system, which can be expensive, look into hiring a refacing company," says serial remodeler Gwen Moran, co-author of "Build Your Own Home on a Shoestring."
"Many companies can remove cabinet doors and drawers, refinish the cabinet boxes, then add brand-new doors and drawers. With a fresh coat of paint over the whole set, your cabinets will look like new."
If you're handy, you can order your own replacement cabinet doors and door fronts from retailers like Lowe's Home Improvement or The Home Depot and install them yourself. A simple coat of paint can change the look and feel of a space.
2. Give appliances a facelift. If your kitchen appliances don't match, order new doors or face panels for them. When Nicole Persley, a Realtor in Boca Raton, Fla., was sprucing up her own home to sell, her mix-and-match kitchen bothered her. The room had a white dishwasher, microwave and wall oven mixed with other pieces that were stainless steel with black trim.
When Persley called the dishwasher manufacturer to see about ordering a new, black face panel, the customer service representative clued her in on a big secret: Many dishwasher panels are white on one side and black on the other.
"All I had to do was unscrew two screws, slide out the panel and flip it around. Sure enough -- it was black on the other side!"
Persley, who has remodeled numerous homes for resale, says that a more cohesive-looking kitchen makes a big difference in the buyer's mind -- and in the home's resale price.
3. Buff up the bath. Next to the kitchen, bathrooms are often the most important rooms to update. They, too, can be improved without a lot of cash. "Even simple things like a new toilet seat and a pedestal sink are pretty easy for homeowners to install, and they make a big difference in the look of the bath," says Moran.

Moran also suggests replacing an old, discolored bathroom floor with easy-to-apply vinyl tiles or a small piece of sheet vinyl. "You may not even need to take up the old floor. You can install the new floor right over the old one," she says.

If your tub and shower are looking dingy, consider re-grouting the tile and replacing any chipped tiles. A more complete cover-up is a prefabricated tub and shower surround. These one-piece units may require professional installation but can still be cheaper than paying to re-tile walls and refinish a worn tub.

4. Step up your storage. Old houses, particularly, are notorious for their lack of closet space. If you have cramped storage areas, Realtor Moe Viessi of Miami suggests adding do-it-yourself wire and laminate closet systems to bedrooms, pantries and entry closets.

There are many ideas online that can help you organize your efforts. You can also get design details and parts for these systems at many large home-improvement stores. Most closets can be updated in a weekend or less.

In the end, your closets will be more functional while you're living in the house and will make your home look more customized to potential buyers when you're ready to sell.

5. Add a room in a week or less. "If you have a three-bedroom house with a den, the only reason the den can't be considered a bedroom may be because it doesn't have a closet," says Persley. "If you add a closet to that room, you've now got a four-bedroom house. That adds a lot of value."

Persley says it's usually possible to add a custom closet system and drywall it in for less than $1,500.
Got all 5 of those covered? Stay tuned for another 5 handy tips!
In the mean time, contact one of the advanced systems homes designers to see how quick your new homes can be built to add value to your finances.