Posted on in Blog by Georgia ReiGeorgia Rei
Do you know who really built your house?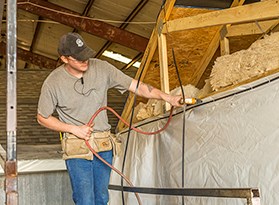 Do you know who wired, plumbed or framed the home you are living in? Unless the home builder was a close relative, you most likely don't. Most home builders generally use sub-contractors to perform these jobs. Advanced Systems Homes on the other hand, does not use sub-contractors. Every major part of home construction is performed in-house. We know our crews. In fact, not only do we know who they are, we know where they live, their spouses and children.
The advantage of building with Advanced Systems Homes is that most of the work is done in our Climate controlled production facility in Chanute, Kansas where our workers stay employed year long. All our skilled craftsman work as a team to produce exceptional homes. Our resume includes the building of literally hundreds of homes throughout Kansas, Oklahoma and Missouri. Our workers drive to one location, 4711 South Santa Fe Avenue, Chanute Kansas. They work together day in and day out as a team, constructing under the watchful eye of the talented veteran supervisor.
We are not the construction crew that disperses as soon as the final check is received. We stand behind our work. We warranty all our homes You know where to find us, any work day. You are welcome to come by and take a tour, see the homes being built. Meet with our design team and perhaps the next home under modular construction could be yours.
Your dream. Our Passion.