Posted on in Blog by Georgia ReiGeorgia Rei
Want a Bay Window? No problem with Advanced Systems Homes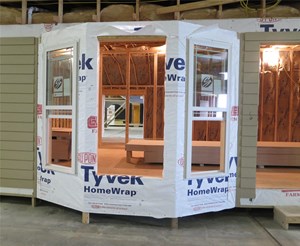 My Grandma had a big bay window in the front of her house. She had a bench built all the way around so you could look outside. I have fond memories of cold winter mornings sitting in the comfort of her home, watching the snow fall.
I want that window in my dream home. I thought, when I searched for a reputable home builder in my price range that the bay window was out of the picture (pun intended!). Most track homes are built with two to three floor plans and deviation from those plans is not possible.
Luckily, I found ASH. Advance Systems Homes explained that what "Custom Builder" means is I can list out features that I desire and their experts work with me to get a good design that fits my budget, bay window and all.
A little over 90 days later, I will be watching their ground crew team set my new home on the foundation ASH prepared for me. After a few finishing touches, I will be able to turn the key to my new dream home and go sit in the bay window seat, remembering my Grandma and starting a new tradition of dream goals for my children.
Contact our design team to get started on your dream home plan.