Posted on in Blog by Georgia ReiGeorgia Rei
ASH and gingerbread houses have a lot in common.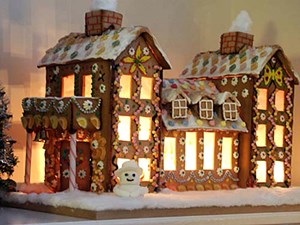 Grandmother used to make these beautiful giant ginger bread mansions. She would work from some baking "plans" that detailed how to make several of the rooms at a time and then assemble them on a specially prepared base. She would say how much easier it was to do the complete rooms and then, when you were sure they were perfect, put the whole thing together.
In a way, that's how Advanced Systems Homes does it. We work off a plan, instead of a recipe. We've done it enough times, that just like Grandma, we have "perfected" the recipe. Instead of using a kitchen in our home, we construct the pieces in a large environment controlled warehouse, protected from the elements. The homes are based on a particular, standardized and proven floor plan, yet they are configured and constructed to each new owner's desires and tastes. Our "base" is prepared by our expert ground crews who work on your property to prepare for the modular home placement. This team, like Grandma, is experienced at putting everything together and finishing the house so that it is Turn Key ready to move in.
Advanced Systems Homes has a team of experienced people that work together to build and finish your new modular home. This is not a haphazard compilation of people that just happen to be in need of a temporary job. ASH workers have proven skills that are used continuously year-round. There is no need to lay off the team of roofers because of wet or cold weather, since the houses are constructed in the dry enclosure of the huge plant. Our workers keep their jobs throughout the seasons.
If you know what kind of house you want, then we can help you build it. If you are not sure what type or style you like, our design team can find a floor plan that will work for you, or tailor one to your needs. Contact us and your home can be built and placed in as little as 90 days.