Posted on in Blog by Georgia ReiGeorgia Rei
It's all about the base, with ASH that is.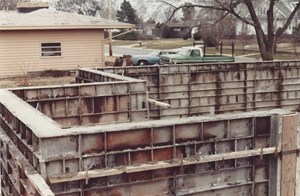 It's All about the BASE…especially with ASH
What's the difference between an ASH home and a mobile home? Well for one big difference………………………..It's all about the base!
Advanced Systems Homes does not build Mobile Homes. We are a modular home builder that carefully builds homes year-round under the protection of our expansive, climate controlled warehouse. No trailer wheels, no axels, no underpinning.
Our site manager sets up the area where you wish to locate your home, and our site readiness team gets your property ready for your new home's placement. You can have your home placed on a solid foundation or on a basement poured by Advanced Systems Homes. (like the one in this picture)
These pictures are from a home built over 30 years ago. We've learned a lot in the many decades we have been building. That's another good thing about using Advanced Systems Homes as your builder….you can find us when you need us. Unlike a lot of other construction outfits, you know where we are, and that we are going to be there years from now if you have an issue or if you just want to talk to the folks that built your home.
If you are in need of speed and are willing to choose one of our 80 or so ready to build floor plans, we can get your home done in as little as 90 days. Whether it's a custom design or a configurable design, we can do it and do it efficiently, on time and on budget. Contact one of our design team to get started today.