Posted on in Blog by Georgia ReiGeorgia Rei
New designs and open floor plans are no problem for ASH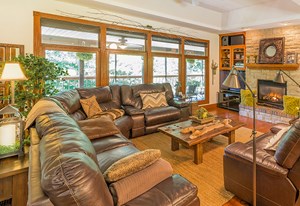 Advanced Systems Homes is not your typical, cookie cutter modular home builder. We mean it when we say "custom". Our design team stays current on the desires and trends in the home building industry.
We can take a plan you found some place else and customize it to a modular build. While we have over 100 pre-drawn floor plans, we are happy to work with you to find the right dream home design. Open floor plans and expansive living areas are entirely possible in our custom design and build process.
ASH has learned in over 45 years of modular building to change with the times. We can apply our experienced methods of construction to build almost any floor plan you desire. Just because our modular homes are delivered in big pieces does not mean that all ASH homes must have a center wall down the middle. In fact, delivering our homes to their final resting site in pieces enables us to be creative and offer "beyond the square/rectangle" buildings.
ASH may be an "old" experienced modular home builder but don't mistake our traditionalism with our ability to keep up with the times and be innovative. We are your NO HASSLE builder that offers you the modern home you desire. If we build it, we set it and finish it for you.
Contact us to start looking at what custom design fits you and check out our floor plans.