Posted on in Blog by Georgia ReiGeorgia Rei
Get quality cabinets that will last a lifetime.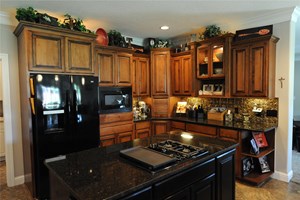 Building your new home with ASH offers an opportunity to add quality features that you desire that add to the overall utility and value of your home. ASH has partnered with Bridgewood. Bridgewood Cabinets are built in Chanute Kansas and they offer a variety of wood species, style, color and finish allowing creativity and quality.
If you choose to custom design your cabinets, which door style suits you? Which wood makes your kitchen feel like the kitchen of your dreams? There is a full custom that offers the option to literally configure every detail of the cabinets.
If that custom design offers too many questions to answer or does not quite fit into your budget, the "Advantage" line is a "semi-custom" line of cabinetry. Many of the same choices offered in the full custom line are preconfigured to the latest styles in kitchen designs. 14 door styles, 5 wood species, and dozens of finish and wood combinations are available.
When we talk about "door styles" we're referring to the door profile, the contours and inlays that are applied to the raw, natural wood. Any of our fourteen door styles can be made from any of the five wood species we use, and finished with dozens of different color/finish combinations. All of the door styles can be made from any one of five different wood species—Maple, Oak, Hickory, Cherry, or Knotty Alder. Each wood species has its own unique set of designer-inspired color/finish combinations for you to choose from.
Not sure which direction you want to go? Contact us for an appointment with one of our designers. Let us help you find the quality and elegance that fits your budget. The consultation is free. Let the dreaming begin.
.