Posted on in Blog by Georgia ReiGeorgia Rei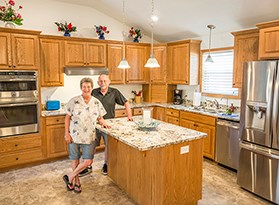 Turn the Key….and LIVE
When you have a new home built, you expect to be able to turn the key to your new place, move in your furniture and start living. Buyer beware, some builders out there are not "turn-key". Many modular home builders will build the frame of the home, and the walls on the inside and then leave what they call the "finishing touches" to the home buyer.
This often includes such things as installing light fixtures, finishing out painting, installing flooring and sometimes installing appliances. Advanced Systems Homes does it the right way! We believe that the only finishing touches that should occur are hanging the wall decorations. ASH wants to help you purchase and move into the new country homestead of your dreams, not be your own finishing contractor. We go above and beyond traditional methods of building to get you the quality build you want.
ASH quotes a "move in ready" price per square foot estimate. We are clear about what features are included in the price. It is our goal to see you satisfied when you turn the key to your new home. We are the expert home builders and it's your dream, our passion. You can have your dream home built and ready to turn the key to a completed home in as little as 90 days. Contact our design team of experts to get started on your special key.