Posted on in Blog by Jill WineingerJill Wineinger
5 things you should know about building modular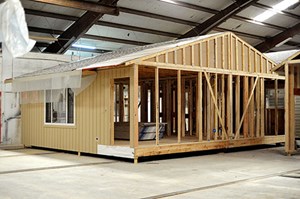 Modular homes are built in sections within a controlled environment in our factory, where they are never exposed to adverse weather conditions like your typical stick-built homes. The individual sections move through the factory, with the ASH's quality control department inspecting them at every step. Finished modules are covered for protection, then transported to your home site. They are placed on a foundation, professionally joined, and completed by the ASH crew.
How long does it take to build a modular home?
Advanced Systems Homes strives to meet a 90 day build time. Since ASH modulars are built indoors, there's never a weather delay. It usually takes another 4-6 weeks for our road construction crew to put the pieces together once the materials are delivered to the building site.
They sound like mobile homes. Are they the same thing?
Mobile homes, now called manufactured homes, are built to conform to the same federal code, no matter where they will be delivered. That code is called the HUD code. It stands for Housing and Urban Development, an arm of the United States government.
A modular home conforms to the building codes that are required at the specific location it will be delivered to and, in many cases, construction exceeds the required codes. Some critics might even argue that a modular home is more attractive than a manufactured home.
Don't all modular homes look alike?
No, and unless you were there to see the house delivered and assembled, you might not guess it's a modular home. Advanced Systems Homes use computer-aided design programs to draw plans to your specifications, or to modify one of their standard plans to suit your needs, so nearly any home plan can be turned into a modular home.


The Design Team at Advanced Systems Homes designs with modern stands in mind, most people probably cannot tell the difference between a regular stick-built home or a modular home. They look very much like a regular home, yet are often much more cost efficient to construct.
Will banks finance a modular home?
Yes. Most banks, appraisers, and insurance companies treat modular homes the same way they do site built homes -- a house that's constructed entirely on your property. Ask the mortgage brokers and banks in your area to explain how they finance modular homes.
Can I save money by building a modular home?
Sometimes. Construction costs for a modular home are sometimes less per-square-foot than for a similar site-built home. And there are other cost-saving features:

Many modular homes are very energy efficient, which helps reduce your heating and cooling costs, while attempting to protect our planet from climate change.
Your home will be ready to move into much sooner than if you wait for a builder to construct a house on-site. Often, there are fewer delays.