Posted on in Blog by Georgia ReiGeorgia Rei
Part 2 of our fixup series. Work on the "right" things in your old home.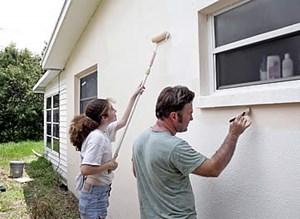 Advanced Systems Homes knows that your house is an asset that needs to be continuously maintained and updated in order to keep its value. In part 1 we discussed 5 ways to add value to your home. Here are 5 more tips from bankrate.com that can help boost the value of your home.
1. Mind the mechanics. Finley Perry of F.H. Perry Builder in Hopkinton, Mass., advocates spending a few bucks on nitty-gritty stuff. "It's often very worthwhile to hire an electrician and plumber for a couple of hours to look over your electrical services, wrap or fix loose wires, fix any faulty outlets, and check for and fix any water leaks," Perry says. "Those details tell a buyer that someone has really taken care of the home and can really influence its price."

2. Look underfoot. Carpeting is another detail that can quickly update a home and make it look cleaner. A professional carpet cleaning is an inexpensive investment, especially if your rugs are in good shape and are neutral colors.

If your carpet is showing serious wear, cover it with inexpensive, strategically placed area rugs. Unless it is truly hideous, most real estate agents don't suggest replacing wall-to-wall carpeting right before you sell your house. The new homeowners may want to choose their own carpeting after they move in.

3. Let there be light. If you have boring recessed lights in your dining and living rooms, consider replacing one of the room's lights with an eye-catching chandelier. Home stores offer a wide range of inexpensive, but nice-looking, ceiling fixtures these days. If you have a ceiling fan and light, you can also buy replacement fan blades (leaving the fan body in place) to update the fixture's look.

4. Reframe your entry. Do you have a flimsy little knob on your main entry door? If so, spring for a substantial-looking handle-and-lock set. "A nice, big piece of hardware on the front door signals to newcomers that this is a solid home," says Viessi.

Also, if you're stuck with a basic steel front door, Persley suggests painting or faux-finishing it for more eye appeal. "It's becoming a trend in Florida to add wood-grain doors to a home's entry or garage. The good news, though, is that you can easily paint existing metal doors with stain and paint," she says.

After using a good metal primer, Persley gives the door a base coat of paint (again, be sure to use one approved for use over metal). For a cherry wood look, Persley uses a burgundy base paint. After it dries, she brushes over the base coat with a cherry wood stain. "It really looks amazing, and it only takes a few hours," she says.

5. Consider curb appeal. Although it sounds obvious, a nicely mowed lawn, a few well-placed shrubs and a swept walkway makes a great first impression. "What buyers see when they first drive by your home is tremendously important," says Viessi.

If you don't have a green thumb, consider hiring a landscaper to install some new sod, plant a few evergreen shrubs and give your front yard a good cleanup. "These kinds of changes can instantly change people's perception of your home and, therefore, increase its value," says Viessi. And hey, your neighbors will love you for it, too.

No need to wait for the fix ups are complete to begin planning your new home. Contact one of the advanced systems homes designers to see how quick your new homes can be built to add value to your finances.